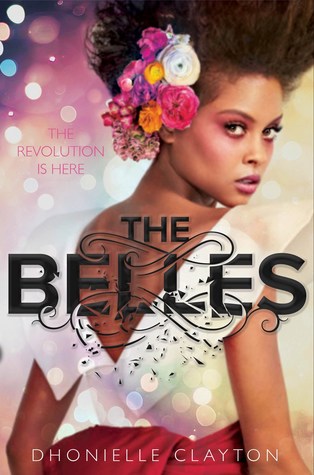 Publisher: Disney-Hyperion
Recommended Age: Young Adult
About the Book:
Camellia Beauregard is a Belle. In the opulent world of Orléans, Belles are revered, for they control Beauty, and Beauty is a commodity coveted above all else. In Orléans, the people are born gray, they are born damned, and only with the help of a Belle and her talents can they transform and be made beautiful.
But it's not enough for Camellia to be just a Belle. She wants to be the favorite—the Belle chosen by the Queen of Orléans to live in the royal palace, to tend to the royal family and their court, to be recognized as the most talented Belle in the land. But once Camellia and her Belle sisters arrive at court, it becomes clear that being the favorite is not everything she always dreamed it would be. Behind the gilded palace walls live dark secrets, and Camellia soon learns that the very essence of her existence is a lie—that her powers are far greater, and could be more dangerous, than she ever imagined. And when the queen asks Camellia to risk her own life and help the ailing princess by using Belle powers in unintended ways, Camellia now faces an impossible decision.
With the future of Orléans and its people at stake, Camellia must decide—save herself and her sisters and the way of the Belles—or resuscitate the princess, risk her own life, and change the ways of her world forever.
About the Author:
Dhonielle Clayton spent most of her childhood under her grandmother's table with a stack of books. She hails from the Washington, D.C. suburbs on the Maryland side. She earned an MA in Children's Literature from Hollins University and an MFA in Writing for Children at the New School. She taught secondary school for several years. Now, she is a librarian at Harlem Village Academies, is one of the #WeNeedDiverseBooks librarians, and co-founder of CAKE Literary, a creative kitchen whipping up decadent — and decidedly diverse — literary confections for middle grade, young adult, and women's fiction readers. Find her on the web at http://www.cakeliterary.com and http://www.dhonielleclayton.com. Also, twitter: @brownbookworm, and instagram: @brownbookworm, and pinterest. Basically, she lurks on all social media platforms.
Noteworthy experiences while reading this book:
When I started reading The Belles I really thought I was going to hate it.
Do I Recommend this book?
Omg yes, you need to read this one!
Notes and Opinions:
I really thought I was going to hate this one. The characters seemed very shallow and of course more consumed with what they looked like and how they could make others look than anyone's wellbeing. But that all changed once I really got into the story.
Around chapter 10 everything started to change and little parts of the perfection that everyone wants in this story. To be the most beautiful person they can be started to fade. This one really made me think that if all these people would have just been people. Instead of people who are cursed and born grey that this could have been a story about the capital from The Hunger Games. It had that same feeling where beauty reigns supreme and nothing else matters. At one part of this story, the newspapers in this one say that these beauty modifications are more important than food which if you ask me is crazy.
The story to this one had a lot of twists and turns that I really didn't see coming. There's a MAJOR betrayal that was shocking and hurtful. And a few others that were kind of predictable but still shocking in their own right.
The world building in this one spot on and pretty much perfect. We get this lovely story about the history of their world. How their goddess fell in love with her children and was pretty much bashed for it. And her children paid the price. I love every second of this story and the snippets of everything I read about it. I would a prequel to this about the start of their world.
The characters in this one were breathtaking. At first, I really kind of hated everyone but as the story grew I fell in love with the sisters I learned about and really worried about each one of them as I wondered what they were doing and how they were being treated.
At the end with this one, it was a beautiful story that was both breathtaking and very dark. I think that the next one could go way darker still but this one did a really good job with the darker themes it presented. I also enjoyed the pacing and the ending which just about killed me! I really can't wait for book two. I need it like right now!
Go Into This One Knowing:
that it has no love triangle although I thought there could have been one, it had one amazing ending, a love of sisters unlike any I've ever read, and a great message that beauty isn't everything and that A. It shouldn't rule your life! And B. You are beautiful just the way you are. Be it with makeup and hair products etc. or without and don't let anyone tell you any different.
Winner will win 1 hardback copy of The Belles
Opened to the US only
Ends Aug. 31st.
a Rafflecopter giveaway
Disclaimer:
"All opinions are 100% honest and my own."
Thanks to Goodreads and Amazon for the book cover, about the book, and author information. Buying via these links allows my site to get a % of the sale at no cost to you.
FTC Guidelines: In accordance with FTC guidelines regarding endorsements and testimonials for bloggers, I would like my readers to know that many of the books I review are provided to me for free by the publisher or author of the book in exchange for an honest review. If am compensated for any reviews on this site I will state that post has been sponsored.
Comments are DELICIOUS! and now that were using this new format for comments the TOP 3 Commenters will all win bookish goodies each month! So that is just one more reason to comment! This is open to everyone! So get commenting!
Don't forget to check out our Facebook, Twitter, Instagram, and Pinterest!