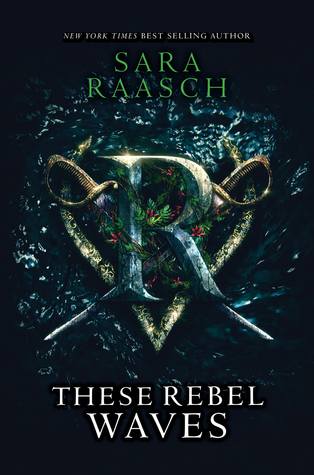 Recommended Age: Young Adult
Genre: Historical Fiction (Fantasy)
About the Book:
Adeluna is a soldier. Five years ago, she helped the magic-rich island of Grace Loray overthrow its oppressor, Argrid, a country ruled by religion. But adjusting to postwar life has not been easy. When an Argridian delegate vanishes during peace talks with Grace Loray's new Council, Argrid demands brutal justice—but Lu suspects something more dangerous is at work.

Devereux is a pirate. As one of the outlaws called stream raiders who run rampant on Grace Loray, he pirates the island's magic plants and sells them on the black market. But after Argrid accuses raiders of the diplomat's abduction, Vex becomes a target. An expert navigator, he agrees to help Lu find the Argridian—but the truth they uncover could be deadlier than any war.

Benat is a heretic. The crown prince of Argrid, he harbors a secret obsession with Grace Loray's forbidden magic. When Ben's father, the king, gives him the shocking task of reversing Argrid's fear of magic, Ben has to decide if one prince can change a devout country—or if he's building his own pyre.

As conspiracies arise, Lu, Vex, and Ben will have to decide who they really are . . . and what they are willing to become for peace.
About the Author:
Sara Raasch
has known she was destined for bookish things since the age of five, when her friends had a lemonade stand and she tagged along to sell her hand-drawn picture books too. Not much has changed since then: her friends still cock concerned eyebrows when she attempts to draw things, and her enthusiasm for the written word still drives her to extreme measures. She is the
New York Times
bestselling author of the Snow Like Ashes series. You can visit her online at www.sararaasch.tumblr.com and @seesarawrite on Twitter.
Noteworthy experiences while reading this book:
I had very high hopes for this one going in. I mean just look at that cover! I really didn't care for Snow Like Ashes but I wanted to give this one a try. And sadly it just didn't work out.
Do I Recommend this book?
If your a die hard fan of Raasch I would say give a go.
Notes and Opinions:
So I think that Raasch isn't for me. The stories she creates always sound so amazing. But once you get started things just fall apart. At least for me they do. This one felt very detached from the story and I really didn't care about the characters or their situation at all.
This one was very flat for me. Nothing really pulled me into the story and the three POVs just made it feel unconnected. We get a TON of info dumping at the start of this one with the three POVs in a prologue and that just really didn't work out. As none of the information stuck with me at all.
The setting of this one was very political and very religious. Right off the bat people are being burnt at the stake and being held hostage to be cleansed.
The world building, in general, was ok but the magic system was weird. I really liked the idea of magical plants but I wish more would have been explained about them. Or just explained better.
In the end, this one just boiled down to the writing style and the story at large. I really didn't grasp what the author was trying to do, the story felt flat and wasn't engaging at all. I didn't care about the characters or their plight. This was not totally horrible but it just didn't give me anything or anyone to root for.
Go Into This One Knowing:
Flat Story, Not Much LGBT, Three POVs, Third Person, Info Dumping
Disclaimer:
"All opinions are 100% honest and my own."
Thanks to Goodreads and Amazon for the book cover, about the book, and author information. Buying via these links allows my site to get a % of the sale at no cost to you.
FTC Guidelines: In accordance with FTC guidelines regarding endorsements and testimonials for bloggers, I would like my readers to know that many of the books I review are provided to me for free by the publisher or author of the book in exchange for an honest review. If am compensated for any reviews on this site I will state that post has been sponsored.
Comments are DELICIOUS! and now that were using this new format for comments the TOP 3 Commenters will all win bookish goodies each month! So that is just one more reason to comment! This is open to everyone! So get commenting!
Don't forget to check out our Facebook, Twitter, Instagram, and Pinterest!