Mere mortal. Fae hunter. Oh, and the apocalypse? Yeah, that happened! She's an unstoppable human. He's an immovable beast. But the fae have scorched the earth and humans are next.... Chloe Etain, stumbled into an ancient war between the light and dark that has culminated in her world being thrown into darkness and pre-industrial chaos. Vampire-like creatures roam free, feeding on unsuspecting humans. Chloe knows the truth though and, possibly, how to stop it. But as a mere mortal, what can she do? That's when the fates step in. Bram Tice, a fae hunting his own kind, vows to help Chloe. But he won't say which Court demands his allegiance. Together, they set out to right the imbalance plaguing her world and save humanity before it turns into nothing more than remnants of ash.

Author: CK Dawn
Narrator: Sydnee Fullmer
Length: 3 hours 37 minutes
Series: Reign of Fae, Book 1
Publisher: CK Dawn
Released: Apr. 17, 2019
Genre: Paranormal Romance









USA Today bestselling author, coffee loving gamer girl, and Sci-fi enthusiast. CK Dawn always loved to snuggle up with her cat Hagrid (the shadow-seer & Netherwalker inspiration) and read. But, with a nudge of encouragement from her lil' sis, she found writing fantasy stories was even better than just reading about them. So, a long time ago in a galaxy far, far away CK let her unique modern tale of knights and Camelot dancing in her head take form and fly with Cloak of Shadows, her Readers' Favorite award winning debut novel in the Netherwalker series. Now, you can find CK writing in the witching hours with Hagrid by her side while being distracted far too often by social media.

Sydnee Fullmer is a professional actor and voice talent based in Denver, Colorado. She graduated Summa Cum Laude from Utah State University with a Bachelor's of Fine Arts in Acting and has since performed and taught across the nation. Including Swine Palace (Baton Rouge, LA), The Denver Center for the Performing Arts (Denver, CO), and The Great River Shakespeare Festival (Winona, MN).

What would you do if the fae took over your world?
Are the light fae really to be trusted?
Chloe and her friend Bram are thrown into a war between the fae as they try to save the mortal world they grew up in.
But who really is Bram and how does he know so much about this war and the fae?
I only have one complaint about this book..it was to short and I needed more.
I will be picking up book two very soon.
I fell in love with the characters in this story as well as the world.
It mixes magic and fae with our modern day world which I thought was an awesome concept.
If you are looking for a good fae book this is definitely a must read.
I also really enjoyed hearing about the details of the magical creatures as well as the many different weapons they have to use to help them stop this war.
I also enjoyed the magic in this world and I think C.K. Dawn did and amazing job mixing their world with ours.
The narrator also did an amazing job brining the characters to life in this story.
Their were parts of this story that had me laughing and the parts that had me fearing for their safety.
Dawn really has a way of writing and made me feel like I was there and part of the action.
I couldn't put this book down and can't wait to start book two!
I received this audiobook as part of my participation in a blog tour with Audiobookworm Promotions. The tour is being sponsored by CK Dawn. The gifting of this audiobook did not affect my opinion of it.

Jun. 30th:
Viviana MacKade
The Book Junkie Reads . . .
Jul. 1st:
Valerie Ullmer | Romance Author
T's Stuff
Jul. 2nd:
Notes from 'Round the Bend
Dab of Darkness Audiobook Reviews
I Sold My Soul For Books
Jul. 3rd:
Jazzy Book Reviews
Locks, Hooks and Books
Crossroad Reviews
Jul. 4th:
Guilty Indulgence Bookclub
Audiobook Fascination
Jul. 5th:
Ruby's Books
Adventures Thru Wonderland
The Book Addict's Reviews
Jul. 6th:
Chapters Through Life
Smada's Book Smack
Turning Another Page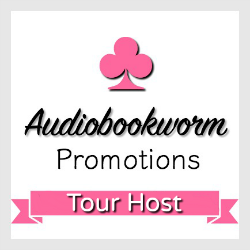 Did you know that comments are DELICIOUS? Well they are and if you comment on any of these posts you could win some awesome goodies!
Disclaimer:
"All opinions are 100% honest and my own."
Thanks to Goodreads and Amazon for the book cover, about the book, and author information. Buying via these links allows my site to get a % of the sale at no cost to you.

FTC Guidelines: In accordance with FTC guidelines regarding endorsements and testimonials for bloggers, I would like my readers to know that many of the books I review are provided to me for free by the publisher or author of the book in exchange for an honest review. If am compensated for any reviews on this site I will state that post has been sponsored.