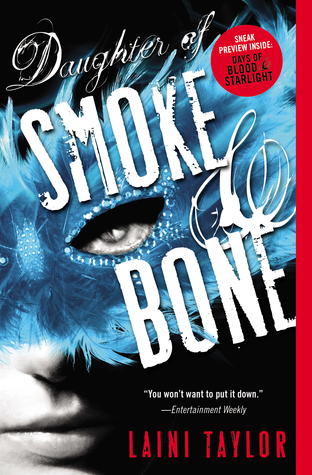 Around the world, black handprints are appearing on doorways, scorched there by winged strangers who have crept through a slit in the sky.
In a dark and dusty shop, a devil's supply of human teeth grows dangerously low.
And in the tangled lanes of Prague, a young art student is about to be caught up in a brutal otherwordly war.
Meet Karou. She fills her sketchbooks with monsters that may or may not be real, she's prone to disappearing on mysterious "errands", she speaks many languages - not all of them human - and her bright blue hair
actually
grows out of her head that color. Who is she? That is the question that haunts her, and she's about to find out.
When beautiful, haunted Akiva fixes fiery eyes on her in an alley in Marrakesh, the result is blood and starlight, secrets unveiled, and a star-crossed love whose roots drink deep of a violent past. But will Karou live to regret learning the truth about herself?
Laini Taylor is the
New York Times
bestselling author of
Days of Blood & Starlight
,
Daughter of Smoke & Bone
, the Dreamdark books
Blackbringer
and
Silksinger
, and the National Book Award finalist
Lips Touch: Three Times
. She lives in Portland, Oregon with her husband, illustrator Jim Di Bartolo, and their daughter, Clementine. Her website is www.lainitaylor.com.
So Ive been going back and forth with this one forever! And I just didn't know if I wanted to love it or hate it. Well a few weeks ago I realized I never backed up my books so I went through everything and took off all of the books I hadn't read. And this series just ended up being one of those. Well I have to say that I finished this book in just under 5 hours. And that although it did have a few issues it was still amazing!
So the only two issues I had in it were that one part of the book one little sentence killed it for a friend of mine. T
hat mention of She saved me and I fell in love with her! That kinda through me for a loop and although I REALLY do love that line. It REALLY makes it sound like insta love and I wish it would have been added after we found out the back story.
The other part is that this book is MASSIVE! I really think some of it could have been cut to make it shorter.
Ok so other than those two things this book is just amazing! Its all about good vs evil and Karou finding out who she really is. And let me tell you if you haven't read this its killer! I never saw it coming! I really loved the story of the creatures! This all goes into the old saying that just because they look creepy doesnt mean they are evil! And well just because they look nice doesnt mean they are good.
I loved the relationship between Karou and the creatures that raised her. I really loved Issa (really hoping I'm spelling that right) The

seraphim/chimaera mythology was amazing and I really can't wait to read the next two books! I am so sad that I don't have the time do those right now.
This will also be a book that goes on my die to get a signed copy! If you love new mythology, new take on angels and demons then def. pick this one up and be ready to have your heart ripped out of your chest!
Go Into This One Knowing
Demons, Angels (new mythology), Romance, betrayal, Snark!
"All opinions are 100% honest and my own."
Disclaimer: Thanks to Goodreads and Amazon for the book cover, about the book, and author information. If you can not see the link above you will need to turn off your spam blocker. Buying via these above links allows my site to get a % of the sale at no cost to you. This money gets used to buy items for giveaways.
https://www.facebook.com/CrossroadReview